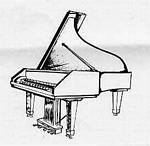 Andrée Darras, Harpsychord and and Fortepiano Player
Andrée Darras has established a considerable reputation in the international concert circle.

She completed her musical education at the Conservatory of S.Cecilia in Rome where she also attended courses in composition and chamber music. After a remarkable start as a pianist (she received her diploma at the age of 15 and has ranked among the top artists in various competitions such as Busoni, Viotti etc.) she dedicated herself entirely to the harpsichord with a vast repertoire of both baroque and contemporary music. She has taken part in several programmes broadcast on radio and TV in ltaly and abroad.

She has been on numerous tours, playing as the soloist in important chamber orchestras like the "Virtuosi di Roma" directed by Renato Fasano, and also founded the Duo Darras-Boari (harpsichord — viola da gamba).

In 1988 she started to play the fortepiano on a Mozartian instrument in her possession, dedicating herself to solo and orchestral performances in ltaly and abroad, first playing the works of C.P.E.Bach and then the complete Sonatas and Fantasies of W.A.Mozart, which have been performed a number of times and also broadcast by the third Channel of ltalian TV.

In 1992 she was awarded the "Targa Frescobaldi" at Ferrara "for her philological research above and beyond interests of a mannered and academic nature, at the same time preserving freshness of expression". She took part in the TV programme "Donne in Musica" (Women in Music) and performed "French Music in the Past and Present" at the Teatro S.Carlo of Naples, which was also broadcast by Italian TV.

She is frequently invited to participate in international festivals, both of baroque and contemporary music in which she is equally interested. She held the chair of piano at the Conservatory " S. Pietro a Majella " in Naples and on 2008 a Master of fortepiano, ( Adam Beyer instrument 1780 ) and is often invitated to hold courses of harpsichord and fortepiano throughout Italy and abroad :
from 1996 to 2003 she taught for Spazio Musica in Orvieto, in 1998 she held a specialization course in Korea, in the same year she started to teach fortepiano at the Municipal School of Music at Viterbo (Schantz instrument, 1820) and from 1999 she has been collaborating with the Comune di Capalbio (Grosseto) in the organization of the "End-of-summer Concert for fortepiano" (Graf instrument, 1824), as well as, a course for both instruments since 2004. For all this activity, she has been awarded the Capalbio Prize 2008.
During 2006, she was engaged for the celebrations in honour of W.A. Mozart in Italy and Austria with orchestral concerts.
At 1° December 2006, she took part in the Mondial Marathon in honour of D. Scarlatti at the Conservatory of Naples and she performed during 2007 at several events paying tributes to the composer in Italy and abroad.
She was appearing during events in concerts on the occasion of the bicentary of F. Chopin in 2010.